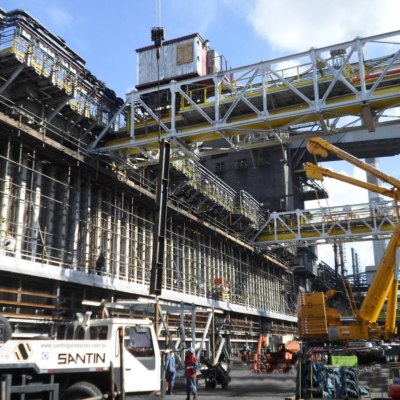 Reconstruction and upgrading of the complex of coke oven batteries No. 3 and 4, reconstruction of auxiliary facilities of the complex without operation shut-down.
Chamber height, m: 6.0
Chamber volume, m3: 35.8
Number of chambers, pcs.: 110 (2×55)
Type of ovens: paired vertical flues with recirculation of combustion products. Combined heating system, underjet.
Steel structures, t: 8,417
Equipment, t: 6,781
Materials, t: 125,000
Movable machines, t: 1,300
According to the EP contract, work was to be carried out under conditions of operating plant in two stages:
Reconstruction of coke oven batteries No. 3 and 4 with complete replacement of process equipment including the following:
basic and detailed engineering;
supply of main and auxiliary process equipment:
complete upgrading of automatic process control system, electrical systems and Instrumentation;
supply of structures and materials.
Reconstruction of auxiliary facilities of the complex of COB No. 3 and 4, including:
wet quenching complex;
movable machines;
coke wharf (main and stand-by one);
by-product plant;
process water cooling tower;
interplant service lines and cable networks;
transformer substations.
In addition to the above, the scope of work of CONCORD GROUP also included designer supervision and technological support of the entire construction and assembly process, drying and heating-up of the coke oven batteries by сушки-разогрева коксовых батарей convection method using LPG regasification units, driving to the design capacity and commissioning.